Hypnos Posture Support 8 Divan Set
Product Description
The Posture Support 8 by Hypnos is carefully handcrafted and finished. It is a luxury firm mattress featuring ReActive™ 8-turn pocket springs and natural and sustainable fibres which actively help manage heat and moisture whilst you sleep.
The mattress is genuinely hand side stitched which contains a comfort layer of organic cotton and flax and hemp and two fleeces of responisibly sourced British wool traceable to Red Tractor assured farms and fairly traded through The Woolkeepers® initiative, combined with an eOlus™ certified recycled fibre comfort pad.
As part of the Posture Support collection, it has a beautiful unbleached cotton and linen sleep surface, free of chemicals.
*All items are available to order but may not be on display in store. Please contact your local store for details.
** Please note Headboard is not included and is for illustrative purposes only
Dimensions And Specifications
The Posture Support 8 by Hypnos is available in the following sizes:
75 x 190cm (Small Single)
90x 190cm (Single)
120 x 190cm (Small Double)
135 x 190cm (Double)
150 x 200cm (King Size)
180 x 200cm (Super King)
2x 75 x 200cm Zip and Link (King Size)
2x 90 x 200cm Zip and Link (Super King)
---
MATTRESS SPECIFICATIONS
ReActive™ 8-turn, high quality pocket springs engineered for total body support and supreme comfort.
Two fleeces* (4.2kg) of high-quality British wool, responsibly-sourced and traceable to Red Tractor assured farms, fairly traded through The Woolkeepers™ initiative. (*per king size mattress)
Organic cotton, flax and hemp layer A truly natural, responsibly sourced layer, keeping sleepers cool at night.
eOlus™ recycled fibre support pad. A resilient layer of polyester, made from recycled water bottles, providing a supportive foundation for pocket springs and top-layer fillings.
Cotton and linen chemical-free cover. A luxurious, breathable sleep surface, woven from responsibly-sourced, unbleached cotton and linen. Safe and fire resistant without the use of FR chemicals.
2 rows of side-stitching to create a smart, well-tailored border - traditionally and carefully hand-stitched to ensure a firm supportive border.
Traditionally hand-tufted with wool tufts to secure mattress fillings in their correct position and stop fillings moving or going lumpy.
Chrome vents to aid breathability for mattress fillings.
Protective eco-packaging made from plant-based ethanol and fully recyclable.
Horizontal padded handles for easy positioning of the mattress on the divan.
100% recyclable - all elements of your bed can be recycled, avoiding landfill.
Mattress weight: 53kg (King size) / height: 27cm
Firm and Extra Firm tension
10 year guarantee.
Seasonal turn.
Build your perfect bed
COMFORT
Hypnos offer a variety of bases all of which will determine your comfort.
We have priced this divan as a Non Storage Deep Platform Base (Standard Basic Non-Sprung Base)
If you would like to enhance your sleep experience Hypnos offer different base qualities. We encourage you to try these out in store, or speak to our experts to fully ensure you choose your perfect bed.
CHOOSING YOUR DIVAN
Hypnos make to measure, for standard or bespoke sizes or shapes. Choose a deep or shallow divan base in your preferred comfort and colour. Many variations are available so we see it best you speak to our Sales Specialists to make sure you choose the right divan for you
For extra comfort and support right up to the edge of the bed, with pocket springs covering the sleeping area, but a timber outer edge.
Choose a traditional deep divan base with chrome castors as standard. A deep divan can also include practical hidden storage.
A modern 'floating' shallow divan base has longer 'stand-out' legs, providing a contemporary 'bedstead' appearance.
---
STORAGE OPTIONS
(Please note storage is only available on the Deep Base)
Choose your choice of soft-close drawer configuration within the deep base.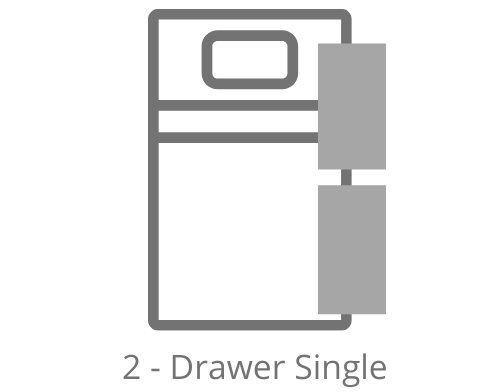 Two Drawers - Suitable for a Single Bed, or for both drawers on one side of the Divan. Each drawer can hold up to 20kg in weight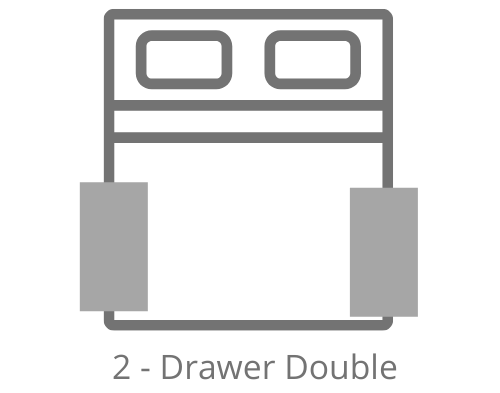 Two Drawers - Giving hidden additional storage in the bedroom, each drawer can hold up to 20kg of weight. Available in double sized divans and above.
Continental Drawers - Two small and two large drawers to enable easy opening around bedside tables. The two larger drawers can hold up to 20kg, whilst the smaller continental drawers can support 7kg each. Available on divans double size and above.
Four Large Drawers - Four large drawers for maximum storage, each able to hold 20kg of weight. Available in double sized divans and above.
HIDEAWAY STORAGE
An open void within the Divan Base, reinforced and cleverly hidden behind beautifully upholstered deep valances. Hideaways are available in a variety of sizes from a single divan to a Superking linked Divan Set.
SUPER STORAGE
Hypnos Super Storage Divans provide the ultimate storage solution. Simply lift up the top of the divan which is hinged to the base, allowing you to use the entire divan base for storage. Hydraulic springs make it easy to lift even with the mattress on.
---
FEET
This Divan comes complete with standard black brake castors, other options are available at an additional cost.
FEET FOR DEEP DIVANS
Black Brake Castor (Height 5cm)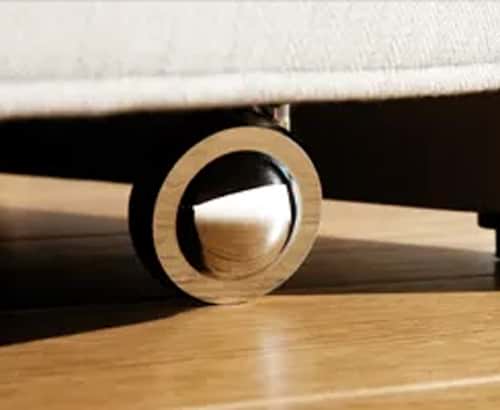 Chrome Castor (Height 5cm)
Natural Tapered Foot (Height 7cm)
Black Tapered Foot (Height 7cm)
LEGS FOR SHALLOW DIVAN BASES
Tapered Natural Wood Leg (Height 17cm)
Tapered Black Leg (Height 17cm)
Aluminium Leg (Height 15.5cm)
Black Gold Estelle Leg (Height 17cm)
---
HEADBOARDS
Available in different options to suit your divan, Hypnos headboard designs are available to fit shallow divans and deep divans. Select a simple headboard with struts, or choose a luxurious full height headboard, that either finishes with the divan, known as a Euro Slim, or luxuriously extends that little bit wider than the bed, which we call a Euro Wide.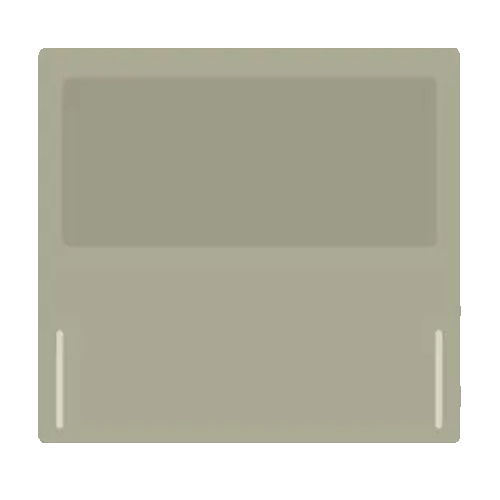 Euro Slim
For a deep divan choose from an elegant Euro Slim headboard, at least 132cm in height and upholstered all the way to the floor, available in the same width as the divan.
Euro Wide
For a deep divan choose from an elegant Euro Wide headboard, at least 132cm in height and upholstered all the way to the floor, available slightly wider than the divan.
Strutted
Traditional 'strutted' headboards simply rise from the top of the mattress.
Shallow
Those who have opted for a shallow base can choose a Shallow style headboard which creates a floating-like bedstead look.
Sustainability
Hypnos are proud to use only natural and sustainable materials, including wool, cotton, flax and hemp. Hypnos work in partnership with farmers to ensure materials are certified and traceable to their origins.
They are first of its kind in the bed industry to work with the Red Tractor's assured farms to source completely traceable certified British wool.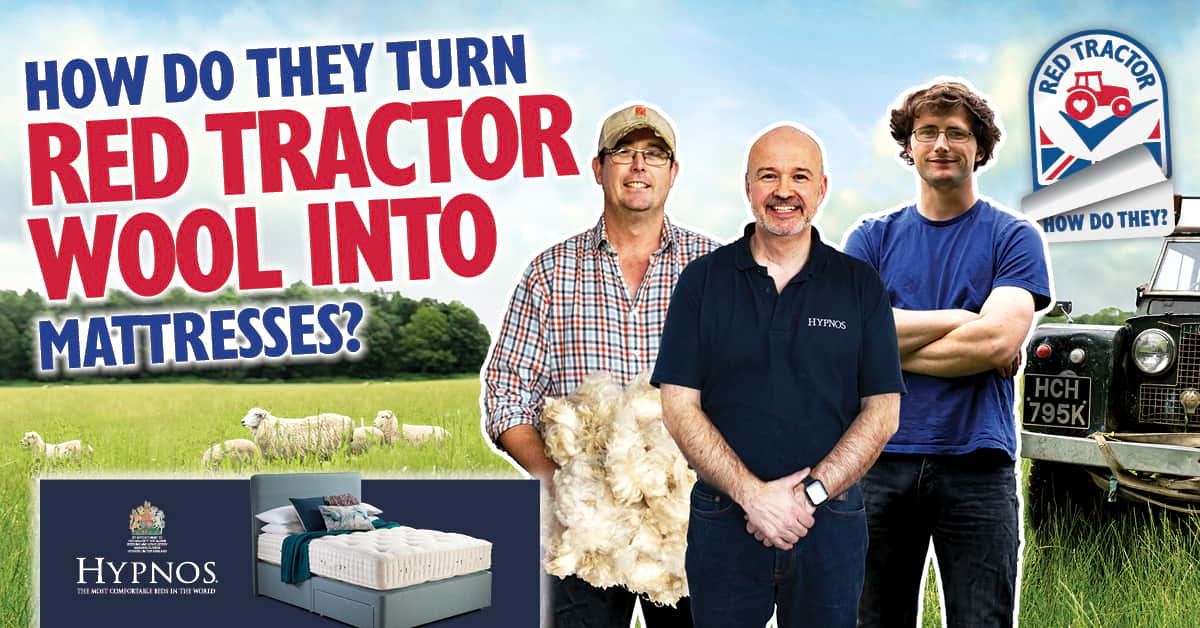 Cookes Delivery Service

ACROSS EVERY ASPECT OF OUR FIVE-STAR SERVICE, WE DELIVER

At Cookes, we're proud of our customer service. Proud of being a family business with over 70 years of service behind us. Proud of the fact that everyone - from our in-store staff to our specialist Delivery Team - aims for excellence in everything they do. These are things that have earned us our reputation for exceptional service. For more information, click here.
check delivery cost

Nationwide Delivery Available

Click & Collect Free of Charge
Furniture Protection
Taking Care of your Furniture
Staingard's Ultimate 5 Year Care Plan is supported by a range of care products, designed to ensure that you are able to maintain your furniture in the best way possible. These care products are specially formulated and produced by Staingard and are easy to use and effective.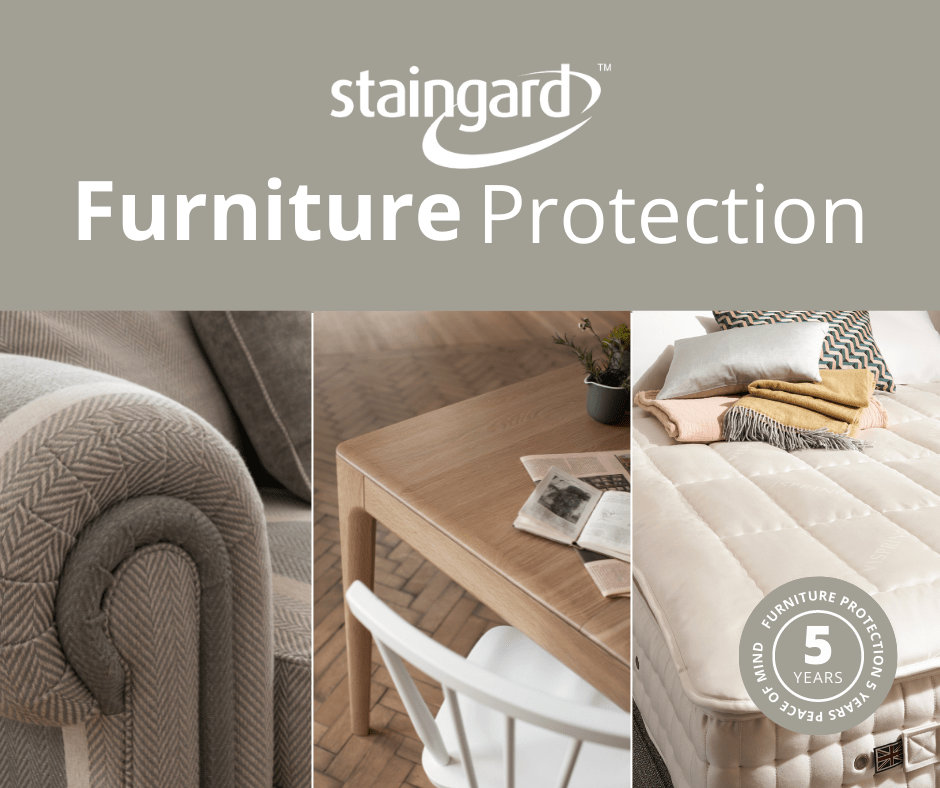 Finance Calculator
Interest Free Credit and Low Cost Finance Packages Available. Click here for Finance Options.
More from this collection